Wholesale Golf Shirt Prices
Score Golf Shirts at Bulk Prices, and hey, there's no minimum order amount, lekker hey?
Howzit! You're now tuned into our Long Sleeve T-Shirts Wholesale corner, neh? These comfy long sleeves are spun from either 165gsm or a hefty 180gsm carded cotton. That's quality, chommie! As for colours, we're keeping it lekker simple: White, Black, Melange, Blue, Green, and Red. Just like our beloved Big Five, these are the classics!
Size? No stress! Our Long Sleeve T-Shirts fit everyone, going from small to 2XL. And to keep you looking extra sharp, we've thrown in some neck ribbing and double-stitched those hems and seams. So don't sleep on this, get your Long Sleeve T-Shirts and stay warm Mzansi style
Golf Shirt Wholesale
From R82.60 Each (Excl VAT) Get Adult Unisex Golf Shirts For Sale
PRICES ↳ (CLICK HERE)
| | | |
| --- | --- | --- |
| | Excl | Incl |
| 180gsm | R82.60 | R95.00 |
| 200gsm | R97.39 | R112.00 |
SPECS ↳ (CLICK HERE)
Black Golfer
180gsm or 200gsm
Polycotton (60%/40%)
Collared with 2 Tonal Buttons
Short Sleeve
Classic Fit Adult Unisex
Double Stitching Hems & Seams
No Pocket
Sizes S|M|L|XL|2XL
PRICES ↳ (CLICK HERE)
| | | |
| --- | --- | --- |
| | Excl | Incl |
| 180gsm | R82.60 | R95.00 |
| 200gsm | R97.39 | R112.00 |
SPECS ↳ (CLICK HERE)
White Golfer
180gsm or 200gsm
Polycotton (60%/40%)
Collared with 2 Tonal Buttons
Short Sleeve
Classic Fit Adult Unisex
Double Stitching Hems & Seams
No Pocket
Sizes S|M|L|XL|2XL
PRICES ↳ (CLICK HERE)
| | | |
| --- | --- | --- |
| | Excl | Incl |
| 180gsm | R82.60 | R95.00 |
| 200gsm | R97.39 | R112.00 |
SPECS ↳ (CLICK HERE)
Melange Golfer
180gsm or 200gsm
Polycotton (60%/40%)
Collared with 2 Tonal Buttons
Short Sleeve
Classic Fit Adult Unisex
Double Stitching Hems & Seams
No Pocket
Sizes S|M|L|XL|2XL
PRICES ↳ (CLICK HERE)
| | | |
| --- | --- | --- |
| | Excl | Incl |
| 180gsm | R82.60 | R95.00 |
| 200gsm | R97.39 | R112.00 |
SPECS ↳ (CLICK HERE)
Royal Blue Golfer
180gsm or 200gsm
Polycotton (60%/40%)
Collared with 2 Tonal Buttons
Short Sleeve
Classic Fit Adult Unisex
Double Stitching Hems & Seams
No Pocket
Sizes S|M|L|XL|2XL
Emerald Green Golf Shirts
PRICES ↳ (CLICK HERE)
| | | |
| --- | --- | --- |
| | Excl | Incl |
| 180gsm | R82.60 | R95.00 |
| 200gsm | R97.39 | R112.00 |
SPECS ↳ (CLICK HERE)
Emerald Green Golfer
180gsm or 200gsm
Polycotton (60%/40%)
Collared with 2 Tonal Buttons
Short Sleeve
Classic Fit Adult Unisex
Double Stitching Hems & Seams
No Pocket
Sizes S|M|L|XL|2XL
PRICES ↳ (CLICK HERE)
| | | |
| --- | --- | --- |
| | Excl | Incl |
| 180gsm | R82.60 | R95.00 |
| 200gsm | R97.39 | R112.00 |
SPECS ↳ (CLICK HERE)
Lime Green Golfer
180gsm or 200gsm
Polycotton (60%/40%)
Collared with 2 Tonal Buttons
Short Sleeve
Classic Fit Adult Unisex
Double Stitching Hems & Seams
No Pocket
Sizes S|M|L|XL|2XL
PRICES ↳ (CLICK HERE)
| | | |
| --- | --- | --- |
| | Excl | Incl |
| 180gsm | R82.60 | R95.00 |
| 200gsm | R97.39 | R112.00 |
SPECS ↳ (CLICK HERE)
Purple Golfer
180gsm or 200gsm
Polycotton (60%/40%)
Collared with 2 Tonal Buttons
Short Sleeve
Classic Fit Adult Unisex
Double Stitching Hems & Seams
No Pocket
Sizes S|M|L|XL|2XL
PRICES ↳ (CLICK HERE)
| | | |
| --- | --- | --- |
| | Excl | Incl |
| 180gsm | R82.60 | R95.00 |
| 200gsm | R97.39 | R112.00 |
SPECS ↳ (CLICK HERE)
Pink Golfer
180gsm or 200gsm
Polycotton (60%/40%)
Collared with 2 Tonal Buttons
Short Sleeve
Classic Fit Adult Unisex
Double Stitching Hems & Seams
No Pocket
Sizes S|M|L|XL|2XL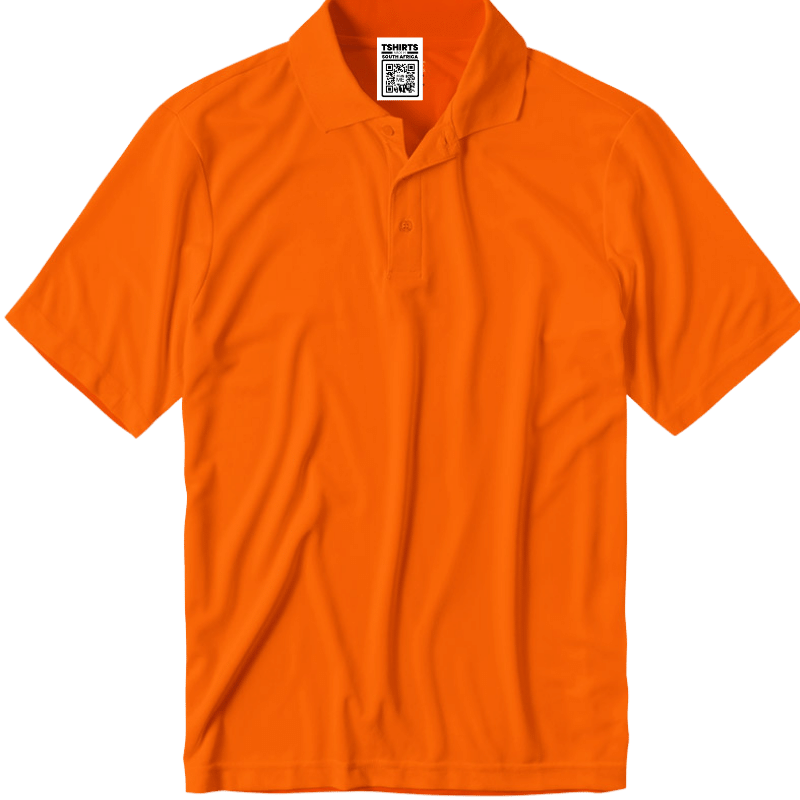 PRICES ↳ (CLICK HERE)
| | | |
| --- | --- | --- |
| | Excl | Incl |
| 180gsm | R82.60 | R95.00 |
| 200gsm | R97.39 | R112.00 |
SPECS ↳ (CLICK HERE)
Orange Golfer
180gsm or 200gsm
Polycotton (60%/40%)
Collared with 2 Tonal Buttons
Short Sleeve
Classic Fit Adult Unisex
Double Stitching Hems & Seams
No Pocket
Sizes S|M|L|XL|2XL
PRICES ↳ (CLICK HERE)
| | | |
| --- | --- | --- |
| | Excl | Incl |
| 180gsm | R82.60 | R95.00 |
| 200gsm | R97.39 | R112.00 |
SPECS ↳ (CLICK HERE)
Navy Blue Golfer
180gsm or 200gsm
Polycotton (60%/40%)
Collared with 2 Tonal Buttons
Short Sleeve
Classic Fit Adult Unisex
Double Stitching Hems & Seams
No Pocket
Sizes S|M|L|XL|2XL
PRICES ↳ (CLICK HERE)
| | | |
| --- | --- | --- |
| | Excl | Incl |
| 180gsm | R82.60 | R95.00 |
| 200gsm | R97.39 | R112.00 |
SPECS ↳ (CLICK HERE)
Maroon Golfer
180gsm or 200gsm
Polycotton (60%/40%)
Collared with 2 Tonal Buttons
Short Sleeve
Classic Fit Adult Unisex
Double Stitching Hems & Seams
No Pocket
Sizes S|M|L|XL|2XL
PRICES ↳ (CLICK HERE)
| | | |
| --- | --- | --- |
| | Excl | Incl |
| 180gsm | R82.60 | R95.00 |
| 200gsm | R97.39 | R112.00 |
SPECS ↳ (CLICK HERE)
Yellow Golfer
180gsm or 200gsm
Polycotton (60%/40%)
Collared with 2 Tonal Buttons
Short Sleeve
Classic Fit Adult Unisex
Double Stitching Hems & Seams
No Pocket
Sizes S|M|L|XL|2XL